News & Updates

Tax services
October 14, 2022
The thing about business growth that business owners should think about deeply is that it is crucial to the long-term survival of their companies. Suppose they settle for what the business has at the moment. In that case, it won't be able to sustain future operations and transactions. A company that aims for growth acquires assets, attract new talents, and fund investments, which are vital in driving performance and profits.
It is usual for business owners to find ways to improve their systems, increase profit, and reduce spending. Otherwise, they won't hit the goals they set up for their enterprise. One of the best options to consider when it comes to growing a business in Singapore is to hire an accountant or service provider of cheap accounting and tax services. Both can help with saving time and money.
Other than that, here are some of the benefits you will enjoy:
Updated Business Spending
Catching up on neglected financial reports can take a lot of time and effort. Hopefully, your company doesn't have to go through all this hassle. This happens to quite a few small businesses because the business owner is too occupied with other aspects of handling the company. Hence, they don't have time to partake in monthly accounting. If you find it hard to stay updated with business transactions, don't wait for the worst to come. Hire an in-house accountant or avail of cheap accounting and tax services from one of Singapore's reliable corporate solutions providers.
It is a good idea not to procrastinate and let everything pile up. Staying consistent with tracking financial information, whether weekly or monthly, removes the burden from accumulated accounting and taxation tasks. Thickened paperwork on the table causes delays to any transaction or operation in which the documents are needed. More than that, business owners will feel obliged to take care of pending documents as the highest-positioned officer in the enterprise. When this happens, focusing on critical elements for business growth becomes divided, which should not be the case for emerging firms in a competitive business hub.
Keeping on Track of Business Write-Offs
Tax season, if not the most, is one of the most restless times of the year for the finance department. When it is time to file business taxes, having good documentation of expenses that covers the period of business write-offs makes things easier and more straightforward. The results of not keeping an updated record of write-offs slow down the company's ability to comply with taxes on time and correctly. Avoid this by hiring an accountant to track company expenses. The more comprehensive financial information you have, the nearer you are to ending another fiscal year.
When your company is a step ahead of any business operation, getting things done becomes less time-consuming. The same goes for accounting and taxation activities. If you are on top of your finances, managing them does not take too much of your time, and this gives you more to spend on growing your business. And most importantly, efficient management of business finances saves operations costs.
Outsource Payroll
Did you know that payroll can be an expense that adds up? It is especially true if you are paying the salary of an in-house employee to manage the processing of payroll. In this case, it is best to take a look at the real cost of internal payroll management. Assess what you have seen and work your way around it. You will likely realise that outsourcing payroll is much less expensive. Besides saving money, you can also designate the employee to work on other tasks within the company.
Note that many streamlined systems can be utilised to make outsourcing payroll easier. Make sure to identify your company's needs because these systems cater to the various payroll requirements. Only trust the experts when looking for a qualified accountant or service provider of cheap accounting services in Singapore. Weigh all your options before working with an individual or firm because their presence in your company will make or break it.
To Save Both Money and Time, Only Get Accounting and Tax Services from a Reliable Service Provider
Cheap accounting and tax services will bring another level of advantages and rewards to small businesses and established companies in Singapore. These services provide companies with suitable solutions for their organisation. Most small companies are torn between cutting costs to save on what they believe are pointless expenditures. But the truth is that each expense the business makes is crucial. You have to make money to pay money.
Hence, the first thing you must do to keep your business afloat is to find accounting and tax services provided by professionals like ContactOne. We have an array of business solutions and services to choose from. Talk to us and let us know about your concerns on +65 6333 0633 or +65 8666 3633. Or explore our website to get to know us and what we do better.
November 29, 2017
ContactOne has been recognized by IRAS, the Inland Revenue Authority of Singapore, as one of the top 15 tax agents with the most number of Form CS e-filing done for our accounting and tax clients for the Year of Assessment YA2014, YA2015 and YA2016. We are happy to have achieved this accolade for 3 consecutive years since the inaugural recognition 3 years ago.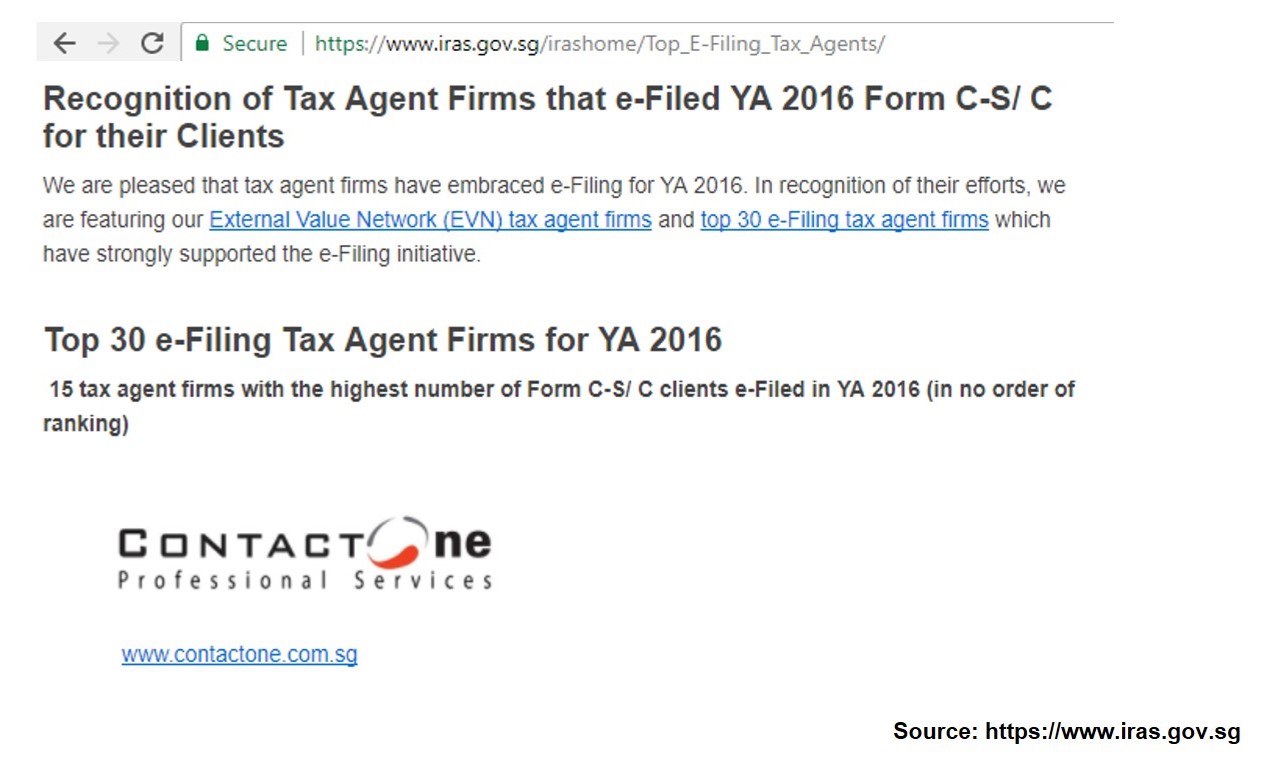 We would like to thank IRAS for this recognition which represents a significant milestone achieved by the entire ContactOne Family. The online filing platform for Form CS has many advantages ranging from better accuracy, reduced errors and wastage. We are glad that the online filing platform will be extended for Form C filing for the coming YA and we definitely will be looking forward to its implementation this year.
The management would like to take this opportunity to thank all of the lovely and dedicated staff of ContactOne for this would not have been possible without your dedication and hard work. We are extremely grateful to have all of you here with us.
Lastly, the ContactOne Family would like to promise our clients that we will continue to uphold our level of commitment towards assisting you to meet your compliance deadlines on time. Process tweaks and improvements are currently underway to enhance your experience with us. We target to continually improve on our service delivery (as well as continue with our multi-pronged reminder system to enable you to remember and meet your deadlines :).
To find out more about our Accounting and Tax services, click HERE.
To visit the IRAS source page, click HERE.